Your website will include the following features:
Updates
Use Updates to keep your family and friends informed about what's happening. You can post new updates as often as you would like, at any hour. Your update message will be automatically emailed to each person you add to your Guest List.
Guest Book
The Guest Book is where your friends and family send their love and support, and share their favorite stories and memories.
Lend a Hand
Facing a serious illness is an enormous challenge both for the person with the illness and for the caregivers. Your friends and family want to support you. Let people know how they can help on the Lend a Hand page.
Photos
In the photo album, you and your friends and family can upload favorite photos of important times in your life. This collection of photos is a beautiful way to celebrate and reflect on your life.
Reflections
The Reflections section has several pages that are designed to help you reflect on your life and share what's important to you. Reflecting on your life together with the people you love is a wonderful way to spend time together, and often sparks meaningful conversations.
The "Life Story" page will help you to tell your story. "Big Picture Questions" offers a variety of topics that can be useful to contemplate and discuss with loved ones. "Favorites" lets you document the things in life that bring you the most joy. "Forgiveness, Love and Gratitude" will help you to say what you want to say to the people who matter to you.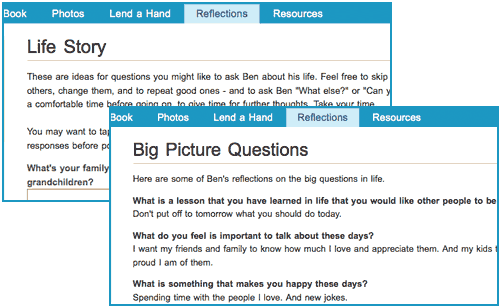 Privacy
Your website will be as private as you wish to make it.
By default, your website will be completely private. Only the people that you invite will be able to see it.
If you choose, you can change your privacy level from "Private" to "Open" to enable anyone who knows the exact website address to see it.
Start your website today — It's remarkably simple to set up, easy to use, and completely free.